Jurnal Elektronika dan Telekomunikasi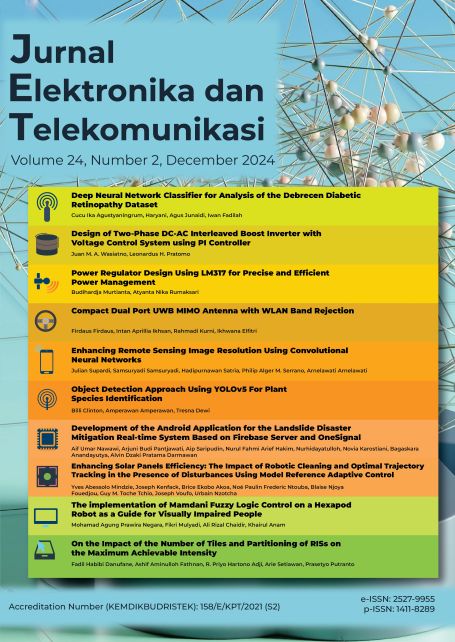 Jurnal Elektronika dan Telekomunikasi (JET) is an open access, a peer-reviewed journal published by National Research and Innovation Agency (BRIN). We publish original research papers, review articles, and case studies on the latest research and developments in the field of electronics, telecommunications, and microelectronics engineering. JET is published twice a year (August and December) and uses single-blind peer review. It was first published in 2001. Online submission and publishing system using OJS has been adopted since Issue 1, Vol. 16, 2016. Starting Issue 2, Vol. 17, 2017, Submitted papers should be written in English.
 
All submitted articles should report original, previously unpublished research results, experimental or theoretical that are not published and under consideration for publication elsewhere. The publication of submitted manuscripts is subject to peer review, and both general and technical aspects of the submitted paper are reviewed before publication. Manuscripts should follow the style of the journal and are subject to both review and editing. Submissions should be made online via JET submission site: Submit Paper. Accepted papers will be available online and will not be charged a publication fee.
Important Dates
Paper Submission Date:
Any time
Article Processing Charges (APC):
Free
Announcements
Call for Papers

Jurnal Elektronika dan Telekomunikasi (JET) calls Scholars, Academicians, Researchers, Engineers, and Industrial professionals to submit their unpublished original work, covering topics in Electronics, Telecommunication, and Microelectronics.

The submitted paper should follow the format available in the author's guideline.

Online submission and online publication in JET will be charged at no cost.

Posted: 2022-01-01
More...
Vol 23, No 1 (2023)
Table of Contents
| | | |
| --- | --- | --- |
| | Front Cover Vol. 23 No. 1 | |
Articles
10.55981/jet.537

Teguh Firmansyah, Supriyanto Praptodiyono, Achmad Rifai, Syah Alam, Ken Paramayudha

9-15
10.55981/jet.524

Nurul Fahmi Arief Hakim, Silmi Ath Thahirah Al Azhima, Mariya Al Qibtiya

29-36
10.55981/jet.525

Indra Dwisaputra, Siti Barokah, Muhammad Erfani Ramadhani, Ocsirendi Ocsirendi

37-46
10.55981/jet.533

M Faizal Amri, Asri Rizki Yuliani, Dwi Esti Kusumandari, Artha Ivonita Simbolon, M. Ilham Rizqyawan, Ulfah Nadiya

47-54
10.55981/jet.539

Yusnita Rahayu, Lara Putri Utami, Teguh Praludi, Topik Teguh Estu, Yussi Perdana Saputera, Anhar Anhar

62-67