Jurnal Elektronika dan Telekomunikasi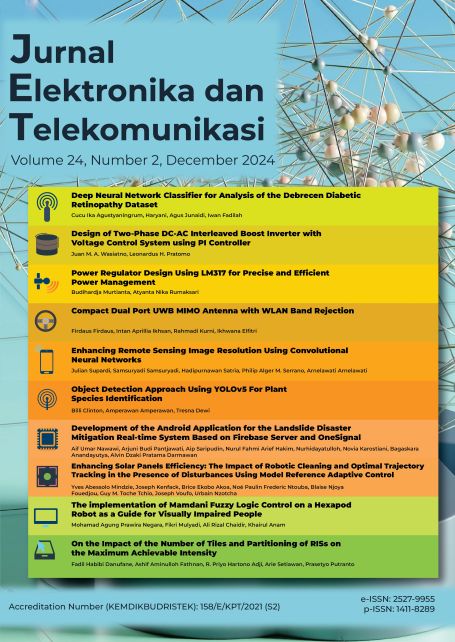 Jurnal Elektronika dan Telekomunikasi (JET) is an open access, a peer-reviewed journal published by National Research and Innovation Agency (BRIN). We publish original research papers, review articles, and case studies on the latest research and developments in the field of electronics, telecommunications, and microelectronics engineering. JET is published twice a year and uses single-blind peer review. It was first published in 2001. Online submission and publishing system using OJS has been adopted since Issue 1, Vol. 16, 2016. Starting Issue 2, Vol. 17, 2017, Submitted papers should be written in English.
 
All submitted articles should report original, previously unpublished research results, experimental or theoretical that are not published and under consideration for publication elsewhere. The publication of submitted manuscripts is subject to peer review, and both general and technical aspects of the submitted paper are reviewed before publication. Manuscripts should follow the style of the journal and are subject to both review and editing. Submissions should be made online via JET submission site: Submit Paper. Accepted papers will be available online and will not be charged a publication fee.
Important Dates
Paper Submission Date:
Any time
Article Processing Charges (APC):
Free
Vol 21, No 2 (2021)
Table of Contents
| | | |
| --- | --- | --- |
| | Front Cover Vol. 21 No. 2 | |
Articles
10.14203/jet.v21.79-84

Supriyanto Praptodiyono, Hari Maghfiroh, Joko Slamet Saputro, Agus Ramelan

79-84
10.14203/jet.v21.85-90

Findi Nur Witriani, Yahya Syukri Amrullah, Fajri Darwis, Taufiqqurrachman Taufiqqurrachman, Yusuf Nur Wijayanto, Ken Paramayudha, Elisma Elisma

85-90
10.14203/jet.v21.112-121

Vita Awalia Mardiana, Mochamad Mardi Martadinata, Galih Nugraha Nurkahfi, Arumjeni Mitayani, Dayat Kurniawan, Nasrullah Armi, Budi Prawara, Sudirja Sudirja, Andria Arisal, Rendra Dwi Firmansyah, Andri Fachrur Rozie, Sulaksono Priyo, Sopyan Setiana, Asih Setiarini

112-121
10.14203/jet.v21.140-145

Teguh Praludi, Yana Taryana, Ken Paramayudha, Budi Prawara, Yusnita Rahayu, Chaeriah Bin Ali Wael, Yaya Sulaeman, Bagus Edy Sukoco, Ros Sariningrum, Hendrawan Kurniadin, Wahid Nova Nugraha

140-145
10.14203/jet.v21.146-153

Yussi Perdana Saputera, Topik Teguh Estu, Teguh Praludi, Ganis Sanhaji

146-153