Vol. 09 No. 2
Abstract
Table of Content:  
Electronic Control Unit for Multiple Injection Method on Diesel  Engine using 8-BitMicrocontroller  [1 - 7]  ↠ A. Muharam, A. Praptijanto, W.B. Santoso
Antena Oven Cavity untukAplikasi WiMAX (Worldwide Interoperability Microwave Access)  [8 - 11]  ↠ Asep Yudi H., Adiseno
Applied biomimetics: Low Noise Aircraft Design  [12 - 19]  ↠ Ille C. Gebeshuber, Burhanuddin Y. Majlis
Rancangan Sistem Instrumentasi Gamma Logging yang Portabel  [20 - 24]  ↠ Budiono
Perencanaan dan Realisasi Channel Filter pada Sistem Pemancar Frekuensi Modulasi untuk Komunikasi Bawah air  [25 - 29]  ↠ Deni Permana, Syamsu Ismail 
Perancangan Pengendali Motor Searah menggunakan Jembatan-H dan Microcontroller MCS-51 untuk mengendalikan sistem gerak  [30 - 34]  ↠ Hari Satrio Basuki
Design and Fabrications of Amperometric Nitrate sensor Based On Thick Film Technology  [35 - 40]  ↠ Robeth V. Manurung, Hiskia
Struktur Kristal, Morfologi dan Sifat Optik Tipis Film Tipis Ti02:Eu yang Ditumbuhkan di Atas Si(100) dengan Metode MOCVD  [41 - 47]  ↠ Edi Supriyanto, Goib Wiranto
Eksperimen Awal untuk Menguji Respon Fiber Optik dengan Menggunakan Back-to-back Connector Terhadap Cairan Polutan  [48 - 51]  ↠ Yudi Yuliyus, Iip Syarif H, Dadin Mahmudin
Desain Sensor Gas Berbasis Zinc Oxide untuk Mendeteksi Gas Carbon Monoxide (CO) pada Kendaraan Bermotor  [52 - 59]  ↠ I Dewa Putu Hermida, Goib Wiranto, Lilis Retnaningsih 
Sistem Komunikasi Bawah Air untuk Transmisi Data dari Dasar Laut atau Danau ke Stasiun Terapung  [60 - 64]  ↠ Syamsu Ismail, Deni Permana Kurniadi
Pengaruh Ketebalan Lapisan Nanocrystalline Titanium Dioksida (nc-Ti02) terhadap Karakteristik 1-V Dye Sel Surya  [65 - 69]  ↠ Lia Muliani, Totok M.S. Soegandi, Yana Taryana
Penguraian Tugas Sinkripsi untuk Kriptograf pada Jaringan Ad Hoc  [70 - 79]  ↠ Samuel BETA, Bambang Riyanto, Armein ZR Langi, Budi Rahardjo
Perancangan dan lmplementasi Antena Mikrostrip Persegi (RMSA) 1B4T Menggunakan Susunan Multiresonator pada Frekuensi 2,4 GHz  [80 - 86]  ↠ Pamungkas Daud, Syamsu Ismail 
Kompaksi Bahan Magnet Permanen Barium Ferit Anisotrop Nano Partikel dalam Solenoida 0,5 T  [87 - 91]  ↠ Nanang Sudrajat, Novrita Idayanti, Tony Kristiantoro
Pengaruh Kelembaban dan Temperatur pada Lapisan Tipis Sn02 Sebagai Sensor Gas CO  [92 - 96]  ↠ Lilis Retnaningsih, I Dewa Putu Hermida
Design and Simulation of A High Performance Low Noise Amplifier for FM-CW Radar  [97 - 100]  ↠ Mashury Wahab
The Influence ofthe Growth Temperature to size of GaN Quantum Dots Grown by Plasma Assisted Metal Organic Chemical Vapor Deposition (PA-MOCVD)  [101 - 105]  ↠ Fitri. S.Arsyad, P. Arifin, M. Barmawi, M. Budiman, Sukirno, A. Supu
Pemilihan dan Ekstraksi Ciri menggunakan DT CWT dalam Sistem ldentifikasi Citra Wajah  [106 - 112]  ↠ Gunawan Sugiarta YB, Riyanto B, Hendrawan, Suhardi
Study on Alumina Layer Deposited by Detonation Gun Coatings  [113 - 116]  ↠ Masbah R.T. Siregar, Farid W. Machmud
Modul Surya Daya Rendah Untuk Lampu Taman  [117 - 121]  ↠ Shobih, Ilea Ismet, Erlyta Septa Rosa
Teknik Hot Press pad a Pembuatan Magnet Bonded Hybrid  [122 - 126]  ↠ Novrita Idayanti, Nanang Sudrajat
Aplikasi Switch RF Berbasis Teknologi MEMS (Micro Electromechanical System) Pada Desain Sistem Peralatan Radar  [127 - 131]  ↠ Sri Hardiati, Pamungkas Daud, Sulistyaningsih, Yusuf NW, Eko Jony P 
Robust Automatic Speech Recognition Features Using Wavelet Packet Transform Coefficients  [132 - 137]  ↠ Tjong Wan Sen, Bambang Riyanto Trilaksono, Any Akhmad Arman, Rita Mandala
Preparation and Characterization of Single Layer Screen Printed-ZnO Films for Textured Multicrystalline Silicon  [138 - 142]  ↠ Erlyta Septa Rosa, Shobih
The Utilization of A3S Method for Accelerating MOOTW Decision Making Process  [143 - 148]  ↠ Arwin Datumaya Wahyudi Sumari, Adang Suwandi Ahmad, Aciek Ida Wuryandari, Jaka Sembiring
The synthesis of CdSe quantum dots and solar cells application  [149 - 153]  ↠ Vivi Fauzia, Akrajas Ali Umar, Muhamad Afat Salleh, Muhammad Yahya, Burhanuddin Yeop Majlis
Encapsulation Fabrication Techniques for MEMS Devices: An Overview of Current Technologies  [154 - 162]  ↠ Azrul Azlan Hamzah, Jumril Yunas, Dee Chang Fu, Burhanuddin Yeop Majlis, Ibrahim Ahmad
Effect of Die Attach Film (DAF) Materials on Quad Flat Nolead (QFN) Stacked-Die Package after Reliability Process [163 - 169] ↠ A. Jalar I. Abdullah, V. Lim, S.A. Radzi
Effect of Electrica Flame Off (EFO) Current and Firing Time On Free Air Ball (FAB) for Copper Wire Bonding [170 - 173] ↠ S. A. Radzi, A. Jalar
Improved Fabrication Technique of Stack Sandwich Micro-Transformers [174 - 179] ↠ Jumril Yunas, Azrul Azlan Hamzah, Burhanuddin Yeop Majlis (Senior Member IEEE)
In0.53Ga0.47As interdigitated lateral PIN photodiode: Effect of illumination Positioning [180 - 183] ↠ P. S. Menon (Member IEEE), S. Shaari (Member IEEE)
Pengembangan Modul Radio Multikanal untuk Sistem Komunikasi Rural [184 - 188] ↠ Yaya Sulaeman, Asep Yudi H., Dayat Kurniawan, Purwoko Adhi
Performance f the Enhanced Double Weight Code in Fiber to the Home Access Network [189 - 192] ↠ Feras N. Hasoon, Sahbudin Shaari (Member IEEE)
Analytical and Experimental Determination of RF Frequencies in Fiber Ring Resonator [193 - 196] ↠ Dilla Dury Berhanuddin, Abang Annuar Ehsan (Member IEEE), P. Sushita Menon (Member IEEE), Sahbudin Shaari (Member IEEE)
Digital Spectrum Analyzer Berbasis Tuner TV dan PC [197 - 201] ↠ Purwoko Adhi, Asep Yudi H., Dayat Kurniawan
Electrical and Magnetic Properties of GaMnN Thin Films Grow by PA-MOCVD on Silicon Substrate [202 - 208] ↠ Budi Mulyanti
Prototipe Magnet Ferrit untuk Mengendalikan Akumulasi Tegangan Cuk Konverter dan Meminimisasi Riak Arus Keluaran [209 - 212] ↠ Herawati Yusuf, Eko Tjipto Rahardjo, Iwa Garniwa
Rancang Bangun Interfacing Universal I/O RS232 Menggunakan Mikrokontroller [213 - 217] ↠ Kristian Ismail, Aan Muharam, Amin, Sysmsu Ismail
Roll-Wired Bowtie Antenna [218 - 223] ↠ Y. Wahyu, A. Kurniawan, Sugihartono, A.A. Lestari
Rancang Bangun Sistem Sensor Mekuri menggunakan Divais Surface Acoustic Wave (SAW) [224 - 228] ↠ Grace Mambu, Gandi Sugandi, Iqbal Syamsu
Studi Desain dan Fabrikasi Cantilever AFM [229 - 233] ↠ Slamet Widodo, I Dewa Putu Hermida, Goib Wiranto, M. Muljono
High PErformance Electronic Ignition [234 - 239] ↠ Teguh Praludi, Arief Suryadi Setyawan, Iqbal Syamsu, Purwoko Adhi
Rancang Bangun Prototype Alat Ukur Curah Hujan Intensitas Pendek (Short Intensity) Jarak Jauh Berbass Bluetooth Sebagai Deteksi Dini Bencana Banjir [240 - 246] ↠ Tito Yuwono, Ruzardi
Desain Struktur Baru Microring Resonator (MRR): Asymmetric Parallel-Cascaded Microring-Resonator (APCMR) dengan Pendekatan Numerik dan Simulasi KOmputer [247 - 252] ↠ Dadin Mahmudin, Iip Syarif H.
Kinerja Algoritma Leach pada Jaringan Sensor Nirkabel [253 - 259] ↠ Arief Suryadi S., Stefanus Enggar Pradipta, Agus Virgono
A Propose of Interleave Filter Based on Multicascade Ring-Resonator [260 - 264] ↠ Iip Syarif Hidayat
Karakteristik Nanomaterial Indium Tinoxide (ITO) Hasil Sintesa Menggunakan Proses Sol Gel [265 - 269] ↠ Goib Wiranto, Novrita Idayanti, Lilis Retnaningsih, I Dewa Putu Hermida
Full Text: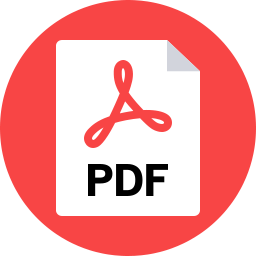 PDF
Article Metrics
Metrics powered by PLOS ALM
Refbacks
There are currently no refbacks.
Copyright (c) 2020 Jurnal Elektronika dan Telekomunikasi
This work is licensed under a
Creative Commons Attribution-NonCommercial-ShareAlike 4.0 International License
.