Jurnal Elektronika dan Telekomunikasi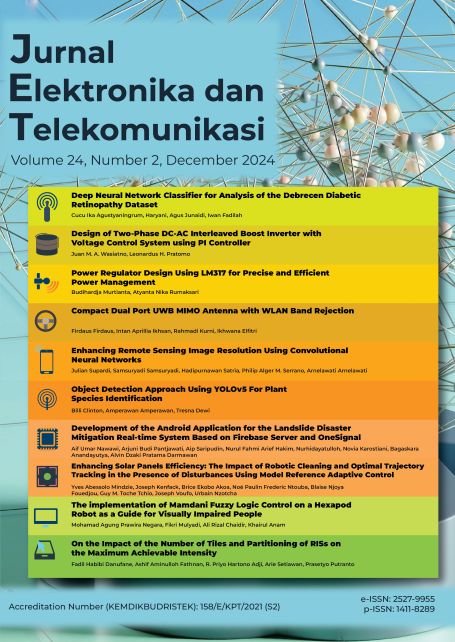 Jurnal Elektronika dan Telekomunikasi (JET) is an open access journal published by Research Center for Electronics and Telecommunication - Indonesian Institute of Sciences. We publishes original research papers, review articles and case studies of the latest research and developments in the field of electronics, telecommunications, and microelectronics engineering.  It's a peer-reviewed journal that written in English and or Bahasa Indonesia, published twice in every year, and review process using double-blind peer reviews. It was first published in 2001. Starting from Vol. 16, No. 1, 2016, full articles published are available online.
 
All submitted articles should report original, previously unpublished research results, experimental or theoretical that are not published and under consideration for publication elsewhere. The publication of submitted manuscripts is subject to peer review and both general and technical aspects of the submitted paper are reviewed before publication. Manuscripts should follow the style of the journal and are subject to both review and editing. The articles should  be submitted to the editorial office by Open Journal System (OJS) on web site jurnalet.com. Accepted papers will be available on line and no publication fee.
Announcements
Call For Papers

Authors are invited to submit electronically no more than 8 pages full paper through journal website. The submitted paper should follow the format available on the author guideline.

The scopes of accepted papers are:

    Electronics
    Telecommunications
    Microelectronics
    and Selected Application

Online submission and online publication in JET Journal will be charged at no cost.
Posted: 2016-05-25
More...
Vol 16, No 2 (2016)
Table of Contents
Articles
10.14203/jet.v16.25-32

Priyani Kusrini, Goib Wiranto, Iqbal Syamsu, Lilik Hasanah

25-32
10.14203/jet.v16.33-39

Yahya Syukri Amrullah, Arief Budi Santiko, Bayu Heri Prabowo, Yuyu Wahyu

33-39
10.14203/jet.v16.40-45

Y. Taryana, T. Praludi, Y. Sulaeman, Y. Wahyu, W. I. Prayogo, B. S. Nugroho

40-45
10.14203/jet.v16.46-51

Sri Hardiati, Yuyu Wahyu, Hanindya Permatasari, Budi Prasetya R.

46-51